Forget about buying expensive cleaners made with all sorts of harmful chemicals.   Your household cleaning can be accomplished with a few common inexpensive  ingredients.
Window Cleaner – Combine 1/4 cup of vinegar, 1/2 teaspoon liquid soap, and 2 cups water.  Apply with a spray bottle.  Dry with newspaper.
Bathroom Soap Scum Cleaner – Sprinkle with baking soda then wipe with a rag soaked in vinegar.  Salt can also be used in place of baking soda.
Toilet Cleaner – Sprinkle with baking soda and add a cup of vinegar.  Let soak for 30 minutes then scrub with a toilet brush.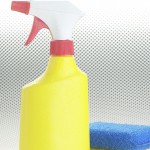 Carpet Stain Cleaner – Use club soda.
Carpet Freshener – Sprinkle with cornstarch.   After an hour vacuum away the cornstarch and the odors. For really bad odors leave on overnight.   Baking soda can also be used for this.  Make sure carpets are not damp before using.
Dishwasher Rinse Aid – Use vinegar in your rinse compartment.
Floor Cleaner – Mix 1 gallon of hot water with 1/2 cup vinegar and 4 Tablespoons lemon juice or a few drops of peppermint oil if you prefer.  If your floors are wood, dampen floors with this mixture but do not soak or it could damage your floors.
Wood Floor Cleaner – Mix 1 part vegetable oil with 1 part vinegar.  Rub onto floors.
Furniture Polish – Mix 2 parts vegetable oil with 1 part lemon juice.  Rub on and polish with a soft cotton rag.
Oven Cleaner – Combine 5 Tablespoons of baking soda, 4 Tablespoons of vinegar, and a few drops of liquid dish soap to make a thick paste.  Apply with a sponge and scrub.  Rinse well.
Air Freshener – Set partially filled saucers of vinegar about the room.  To remove kitchen odors boil one cup of water mixed with 1 Tablespoon of vinegar on the stovetop.
Drain Cleaner – Pour a kettle of boiling water down your drain to break up grease.   Use a mixture of vinegar and baking soda to freshen the drain and break up clogs.
Cleaning Rags – Make your own by cutting up old cotton clothing, diapers or towels.
Dust Cloths – Use old socks.  Just slide over your hand and you don't even have to grip it the whole time you are dusting!  Slide the sock over a broom handle to get to high places.
Scrub Brush for tight spots – Use an old toothbrush.
Squeegee for Windows and Shower Glass – Use an old windshield wiper.